Articles
Transitioning to the Cloud: Steps, Concerns and Benefits
October 31, 2016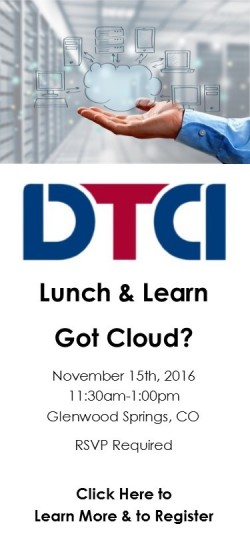 The cloud. Everyone's talking about it, but how many companies are actually using it? Or, better yet -- relying on it as a secure place to store important data?
The cloud is more than a techy buzzword. The cloud is becoming more and more popular due to its ever-expanding capabilities. It's important to know how implementing the cloud can benefit your business and give you an essential competitive advantage.
Companies like Adobe, Instagram, Amazon and Google, among many others, have converted to Cloud Computing Services. With a plethora of financial benefits, experts agree that businesses will slowly start ditching in-house server hardware (which becomes antiquated as a company's storage needs expand over time) for the cloud.
But how do you get started, when some individuals in your organization fear or are resistant to change in how they conduct business?
Step 1 – Address concerns regarding the cloud (See Cloud-based Myths below)
Step 2 – Understand the benefits of the cloud and share this information with your team (See 5 Reasons to Consider the Cloud Below)
Step 3 – Work with a Managed Services Provider, like DTCI, to ensure that the transition is the right fit for your organization and that the transition is smooth
(See: Three steps that DTCI takes to help our clients transition to the cloud)
Step 4 – Make the transition
First, let's address important concerns and tackle a few cloud-based myths:
Security: Anyone who says that the cloud poses security risks, potential setbacks, and loss of control over data would not be wrong. However, the fact is that all those risks are not solely unique to the cloud – your company will face them regardless.
No matter what solution you are using, it is all about working with a knowledgeable, reputable IT provider to protect and organize your data in the best way possible. Across the board, it is essential to have a process to ensure the security of your business, your clients and your data. DTCI can help you evaluate the risks and benefits of transitioning to the cloud so you can make an informed decision for your organization.
Difficult to implement: If the idea of having to move mass amounts of data from a network server to the cloud seems overwhelming, it can be, especially with all the other tasks that a small/medium-sized business (SMB) faces. The chances that you have that time and expertise to setup a well-functioning and secure system completely on your own are probably pretty low. That's where DTCI can manage the technical details for you to ensure a smooth transition. We will work with you to define your goals, map your implementation and ensure employee adaption. Additionally, for most cases, the cloud is not an all-or-nothing solution. Likely, the best option when transitioning to a cloud-based system is to move data and processes incrementally rather than all at once.
Now that common cloud myths have been addressed, here are 5 reasons to consider the move to the cloud:
Easy collaboration and accessibility: Members of a team can access files with little to no effort, no matter where their physical location -- or even what device they are using. With its ease of use and accessibility, productivity increases and team communication is not limited by coordinating busy schedules.
Paperless: Bottom line -- the lack of a "paper trail" saves money. Lots of it. Bonus – going paperless reduces your organization's carbon footprint.
Attracts new employees: Millennials bring an array of knowledge to the table, in a range of evolving industries. With that comes their expectations of flexibility. The appeal of being able to work from anywhere, at all hours of the day is attractive to this generation of employees, whose technical abilities are second nature.
No updates necessary: Avoid "down-time," server errors, IT meltdowns and droves of panicked calls to the help desk altogether. Your cloud vendors are on top of it.
You don't need to know much about it: Still not sure if you're "getting it?" That's where DTCI can help. You don't need to know or keep on top of what's going on with cloud technology, but you do need to consider that in order to keep a competitive advantage in the marketplace, it's something to consider. DTCI expertly manages a range of challenges for our clients when implementing cloud services.
Find out more about DTCI's cloud implementation process here.
Want to know more? - Click here to register for DTCI's Lunch & Learn, Got Cloud?
Return to Articles Main Page